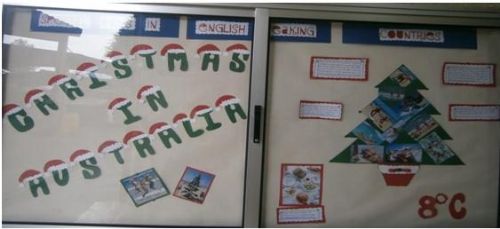 In Australia, Christmas comes in the middle of the summer holidays! Children have their summer holidays from early to mid December to early February, so some people might even be camping at Christmas!
Australians hang wreaths on their front doors and sometimes go out Christmas carol singing on Christmas eve. People also decorate their houses and garden with Christmas Trees and Christmas lights. Neighbours sometimes have little competitions as to who has got the best light display. The neighbors often visit each other to look at the light displays at night. Sometimes the displays are put out as early as December 1st. Christmas Dinner may be a barbeque in the backyard or a picnic on a beach
Many towns, cities and schools also hold their own Carols by Candlelight service. Famous Australian singers like The Wiggles, John Farnham, Anthony Warlow, Colin Gery, Niki Webster and many more help to sing the carols. There are also huge Christmas pageants in each state capital city, that are also broadcast across the country. On Boxing Day most people go and visit their friends and often have barbecues at the beach. A famous Yacht race from Sydney to Hobart in Tasmania is also held on Boxing Day.
I prefer Christmas with cold, rain and snow. The tradition is the fireplace waiting for Santa Claus and the cold out there tells us it's Christmas. The family around the table, gifts. That's the magic of Christmas.